Welcome to Whistler!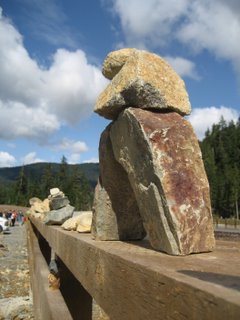 The fence near the biathlon stadium has been populated with inukshuks by visitors.
Kikkan, Taz & I joined the rest of the US Ski Team in Whistler Saturday afternoon (well, most of the team) for a training camp. We had a nice easy classic ski this morning up the access road to the venue and around some of the paved rollerski trails. It's good to check back in with the US Ski Team coaches and get some more perspectives on technique and training. It does take me a little bit to get accustomed to such close perusal from multiple coaches-- it seemed like a fair bit of time today that either Wadsworth or Whitcomb was pacing me either in a car or on a bike once we got to the trails.
Labels: 2010 Venue, photos