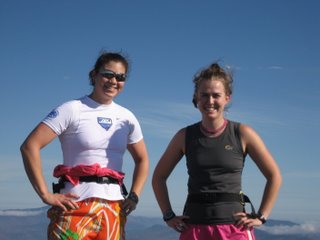 Laura Valaas & Kristina Owen
I was psyched to have one of my old hometown friends here in Lake Placid to train with last week, Kristina Owen (CXC). Actually, it was pretty cool to have three representatives of the old Leavenworth junior team here: Koos, Owen & Valaas. Sunday we (Stina & I, Koos and the other sprinter boys slept in) went on a long run up Mt. Algonquin in the Adirondacks. This, apparently is a popular place to go on a fall Sunday because on the way back down we passed massive amounts of people, a surprising number of them speaking foreign languages. So I started trying out my hellos in different languages: spanish, russian, japanese, german, and french. French was the only one I ever guessed right but the few times I got a "bonjour" (or a chorus of bonjours) back from a group made up for all the other times when the people we passed probably thought I was crazy.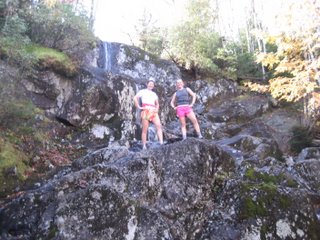 Climbing up waterfalls counts as part of our OD run, doesn't it?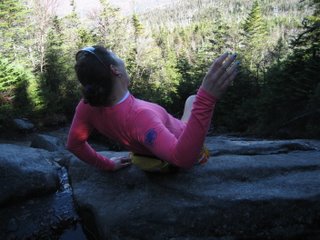 Me crab-walking/slipping/falling back down the trail from Algonquin Peak.
Matt Whitcomb and Kristina Owen scrambling up the trail
I also want to point out that these photos were up Sunday afternoon on kristina's new website:
www.kristinaowen.com
which is brand new and has been up and running since Friday so check it out.