Base Miles
Base miles. Bah.
Ever noticed how much cyclists are into base miles? If I'm going to mock I might as well refrain from discriminating-- runners sometimes get overly fired up about base miles too, but I'll focus on cyclists. Road bikers think that every season requires a month or longer of menial drudgery at no greater than 75% exertion. This, they claim, is the foundation of every successful cycling season and without it, oh horrors, there's sure to be physical ailments in the knees, emotional ailments of lack of status amongst other cyclists, and those curious and otherwise inexplicable ailments also referred to as being slow. If the mantra "high hips" is the Holy Grail of Nordic skiing then the idiocy of "base miles" is the Holy Grail of cycling. Come on guys- there are better things to do with your life than to languish on your trainer in your small attic bedroom for months at a time, letting your unnaturally geometric tan lines fade to your natural but sickly white.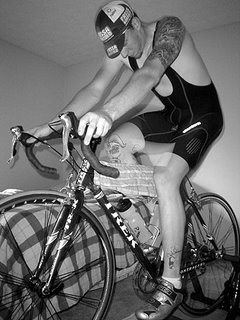 This guy's probably feeling virtuous, getting ready for another race season and plotting out his next tattoo to commemorate what he hopes to be his third season as the best rider at the local Sunday morning group rides.
Cyclists are a fastidious bunch. They hunt down training dogma like High School girls hunt down
The Twilight Saga vampire trilogy
. And like trashy teen romance novels involving vampires, surreal beauty, and rainy towns in Washington, the base mile credo is equally mythical and prevalent. Instead of fastidiously riding below a heart rate of 140 for oodles of time in a misdirected attempt to be fast and machinating the purchase of a dura-ace grouppo in a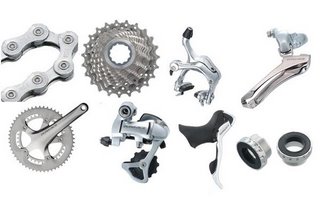 $1,477.77 pursuit of speed, they should actually TRAIN.
I mean, if this guy spent half as much effort training as he does preparing to train, half as much time being concerned over the firing of his muscles as the falling drops of sweat on his fine hardwood floor or the sweat that he fears will drip onto his handlebars, he'd probably have some potential.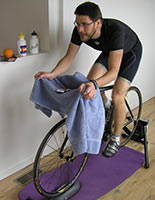 Not that he's planning on sweating on this ride. Who wears glasses on a trainer when they plan on having sweat dripping down into their faces? No, this fellow must be about to check off some of those
crucial
base miles. Looks like he's ready to go for hours with his water bottles lined up within easy reach along with a healthy snack to replenish his glycogen stores while he's riding. Ah, the perfect set up for success. All it's missing is consistent and challenging training sessions.
No, base miles are great when you're just starting out in a sport-- ease the muscles into the movement and build up the supporting ligaments and muscles. What kills me is that cyclists never seem to move on from base miles. They start over from zero every year. Will they ever realize that last year's race miles are this year's base miles?
...uh, I quit running and lately I've been riding my trainer a couple times a week. You can tell it's making me crazy.