Alpina Roller Ski boots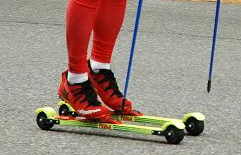 There's nothing like finishing a 2hr rollerski and taking your boots off to find that your feet have been pickled in a brine-y pool of your own sweat. The folks at Alpina, bless their souls, have come up with a solution to the summer time trials of suffocating ski boots: rollerski boots. I'm sure this isn't the first time this has been done, but hey, I'm young and inexperienced so it's new to me.
These boots (both skate & classic) are a ventilated version of the Alpina racing boots. They have a low cut in the classic boot to expose the ankle to the wind and a mesh upper on the foot box so even the little pinky toes can breath. Dorcas WonSavage described some of the construction of the Rollerski boots, "Alpina has utilized new materials and construction techniques that are now available, in making the RRS and the RRC. First, because of the effect of taking away so much material from the winter boot meant some of the structural components needed to be changed. Second, as a way to test the new materials and techniques in Alpina's on-going evolution towards the perfect nordic skate and classic boot." (Dorcas is awesome and fast, but not just awesome because she's fast, and also is the Alpina rep.)
At the moment, if you wanted to get yourself a pair of these shoe-boot hybrids, you would have to 1) know the right people, and 2) be willing to pay the same price as for an Alpina racing boot. There's not very many of these boots out there because, as you can imagine, the rollerskiing market is not very big. (That's why you would have to know the right people.) If you don't want to hunt a pair down now but see yourself wanting a pair in the future the best thing to do would be to go to your local Alpina dealer and ask them to stock the boots.
I haven't tried the boots. The classic boots look like they might not have enough ankle support for my liking but the Alpina athletes that use them seem to like them.
**yes, those ARE Kris Freeman's feet