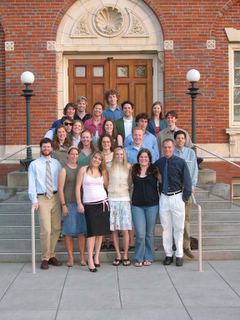 We had the Varsity Athletic Banquet Wednesday night. Hannes and I received the Most Outstanding Performers award for Male, Female Senior! Here's a gathering post banquet of the nordic and alpine teams.
front: Nathan Alsobrook (Head Nordic Coach), Lindsay Records, Nicole
Wolf, Maria Corcorran, Rachel Walker, Tom Olson (Director of Skiing,
Head Alpine Coach).
2nd row: Tory Amorello, Tara Gregg, Kate Ceronsky, Charlie Erdman (on
his 23rd Birthday), Malcolm Dunn (Asst. Nordic Coach).
3rd row: Hannes Zirknitzer, Meredith Riley, Charlotte Gourlay, Marc
Nabelek, Davis Taylor.
4th row: Andy Erickson, Laura Valaas, Alex Farnand, Whitney Heyvaert.
last row: Nate Johnson, Lauren Schmidt.
(note that clicking on the picture will give you a larger version of it.)