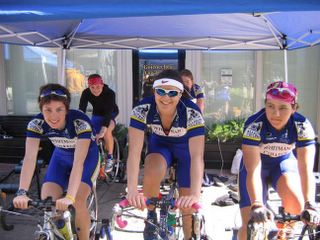 Warming up for the Criterium last Sunday in Lewiston, Idaho. From left to right: Rebecca Jensen, Kate Ceronsky, Laura Valaas, Mara Abbott, Jaime Hinderliter. The crit was a huge success, Mara and Rj broke of the front and time trialed in to take first and second and win almost all the prime points. Jaime and I stayed in the pack, stringing it out to drop people and sprinted for fourth and fifth. Kate, unfortunately flatted in the final laps of the race and was out of contention.
Notice the pink bar tape on my bike, a gift from Jane Rynbrandt! Jane raced with us on Saturday despite her seperated shoulder but decided to take Sunday off.
note: If you have a problem in a crit (crash or flat usually) you get to go to the "pit" where they have mechanics and spare wheels and then rejoin the race after a lap. If you have a problem with less than five (sometimes three) laps to go, you don't get the extra lap.